Smith County of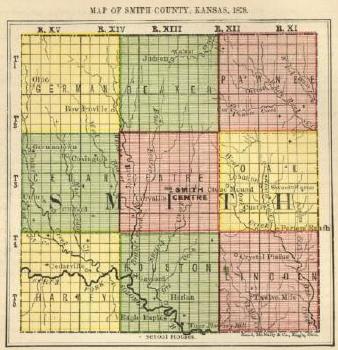 From First Biennial Report of the State Board of Agriculture to the Legislature of the State of Kansas, for the Years 1877-8 embracing statistical exhibits, with diagrams of the agricultural, industrial, mercantile, and other interests of the state, together with a colored outline map of the state, and sectional maps, in colors, of each organizaed county, showing their relative size and location, railroads, towns, post offices, school houses, water powers, etc., etc. Topeka, Kansas: Kansas State Board of Agriculture. Rand, McNally & Co., Printers and Engravers, Chicago. 1878.
Smith County website
.
Copyright 2017 Julia Langel. This is a work in progress, so please be patient with errors and omissions!