Randolph County of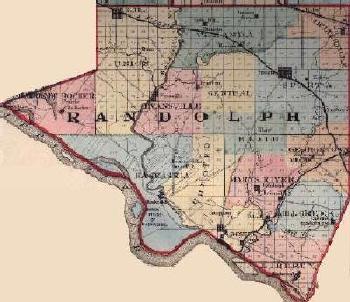 Source: "Atlas of Henry Co. Illinois to Which is Added an Atlas of the
United States," Warner & Beers Publishers, Chicago, 1875.
http://www.rootsweb.com/~ilrandol/maps.htm
     Randolph
County of
Randolph County was a big coal mining area, especially in the northeast between Sparta and Coulterville. For more information on coal mines in Randolph County, check out the Illinois State Geological Survey
report
.
     Randolph County of "While the Salina Journal named Colonel and Mrs. Phillips and their children as the "first family," Sparta, Illinois claimed all the honor for Salina's start. Each year the tribe of Sparta grew larger and larger. … When we look over the families who settled here and helped with the building of the city, Sparta -- Little Egypt -- may well be proud of its role in giving Salina a place in history. There were all the Phillips clan, Alexander Campbell, the Muir family, Alexander Spilman, B.J.F. Hanna, the Addisons, several branches of the Morrison families, the Beans, Robert Craig, A.L. Wilson, Henry Allen, Robert Dickey, W.C. Tuthill, Samuel Strickler, Robert J. Gemmill and Robert and Mac Stevenson."
City on the Move: The Story of Salina
, by Ruby Phillips Bramwell, 1969, page 179.
1
Citations
[S56] Book, City on the Move , page 179.
Copyright 2017 Julia Langel. This is a work in progress, so please be patient with errors and omissions!