Roby Green1,2,3
b. Jun 27, 1898, d. Aug 19, 1900
     Roby
Green
was born on Jun 27, 1898 in OH.
1,4
     Roby Green was listed as a son in
William T.

Green
's household on the 1900 Census in Harrison Township, Licking Co, OH.
1
     Roby Green died on Aug 19, 1900 in Newark, Licking Co, OH, at age 2.
4
He was buried in Aug, 1900 at
Pataskala

Cemetery
, in Pataskala, Licking Co, in OH.
3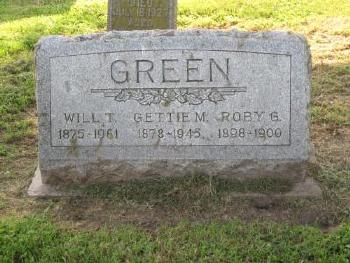 Roby Green
Pataskala Cemetery, Pataskala, Ohio
Photo by Julia Langel, May 16, 2012
Image credit: Julia Langel
An obituary was published on Sep 7, 1900 in the Newark Daily Advocate in Newark, Licking Co, OH.
4

Copyright 2017 Julia Langel. This is a work in progress, so please be patient with errors and omissions!