Ella A. Green1,2
b. Feb 10, 1872, d. Jun 29, 1900
     Ella A.
Green
was born on Feb 10, 1872 in OH.
4,3,5
Ella A. Green was also known as Allie Green.
3
     Ella A. Green was listed as a daughter in
George Robert

Green
's household on the 1880 Census in Harrison Township, Licking Co, OH.
3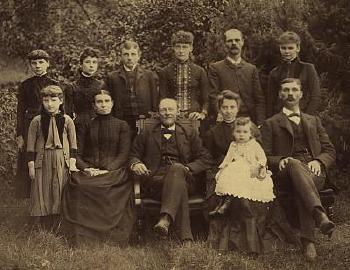 Front row: The man in the center is George Green, so the woman to the left must be Sarah. The young couple to the right are Jennie and Charles Langel.
The ages are about right for the back row to be Jesse, Ella, Will, Arminta (or Amanda), either William Hannah or Charles Lenington, and Amanda (or Arminta). The front row might then be Pearl, Sarah, George, Jennie, Gus, and Charles Langel. If the baby is Gus, the picture was probably taken in 1889.
     She married Theophalus
Langel
in Licking Co, OH, on Sep 17, 1891.
6,4,1,2
     Ella was listed as Theophalus
Langel
's wife on the 1900 Census in Liberty Township, Fairfield Co, OH.
4
     Ella A. Langel died on Jun 29, 1900 in at home, Kirkersville, Licking Co, OH, at age 28. She was killed by lightning.
1,2,7
An obituary was published on Jun 30, 1900 in the Newark Daily Advocate in Newark, Licking Co, OH.
7

She was buried in Jul, 1900 at
Pataskala

Cemetery
, in Pataskala, Licking Co, in OH.
5
Copyright 2017 Julia Langel. This is a work in progress, so please be patient with errors and omissions!