Elvin Phillip Burt1,2
b. Aug 14, 1915, d. Dec 8, 1920
Father
Chester "Chet" Orman

Burt

1,3,2 b. Apr 29, 1883, d. Oct 25, 1948
Mother
Elfreda

Youngberg

1,3,2 b. Jun 3, 1888, d. Oct 20, 1949
     Elvin Phillip
Burt
was born on Aug 14, 1915 in KS.
1,3,2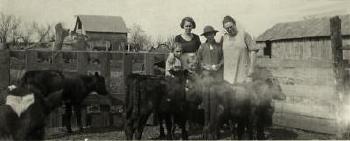 Adults: Unknown and Elfreda Burt; Children: Grace, Clifford and Elvin?
Clifford
and Elvin was listed as a son in
Chester "Chet" Orman

Burt
's household on the 1920 Census in Gypsum, Saline Co, KS; Chester was a farmer with his own farm. Clifford and Grace were in school.
1
     Elvin Phillip Burt died on Dec 8, 1920 at age 5.
3,2
He was buried circa Dec 8, 1920 at
Poheta

Cemetery
, Saline Co, in KS.
2
Citations
[S601] 1920 U. S. census, population schedule, Kansas, Saline County, Gypsum, ED 136, sheet 4B, line 87, dwelling 87, family 88, Kansas, Saline County.
[S761] Elvin Phillip Burt Cemetery Marker, Poheta Cemetery, Saline Co, KS.
[S609] Unknown compiler, Saline Co, KS, Deaths and Interments, Poheta Cemetery, page 70.
Copyright 2017 Julia Langel. This is a work in progress, so please be patient with errors and omissions!