William Edward Strickler
b. Aug 7, 1924, d. Jan 15, 1999
     William was born in Los Angeles Co, CA, on Aug 7, 1924.
4,5,2
William Edward Strickler was also known as Edward Strickler.
     Edward Strickler was listed as a son in
Fred L

Strickler
's household on the 1930 Census in 170 Orange Drive?, Los Angeles, Los Angeles Co, CA.
2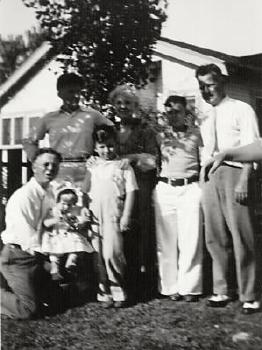 Strickler family in California
On the back, the picture has a stamp from a Los Angeles photo developer service with the date July 31, 1933.
I think the kneeling man is Benjamin, and the woman in the middle is Sadie. That probaby makes the other two man Fred Strickler. Based on ages, I think the kids are Mary Louise, the baby, William the youngest boy, Jack, the middle boy, and Fred, the oldest boy (in the shadow).
     Edward Strickler lived in 1999 in Encinitas, San Diego, CA.
6
     Edward Strickler died on Jan 15, 1999 at age 74.
6
Copyright 2017 Julia Langel. This is a work in progress, so please be patient with errors and omissions!