Joseph William Johnson1,2
b. Jan 10, 1891
     Joseph William
Johnson
was born on Jan 10, 1891 in Salina, Saline Co, KS.
3,2
     Joseph William Johnson was listed as a son in
Swan A.

Johnson
's household on the 1900 Census in Smoky Hill Township, Saline Co, KS.
3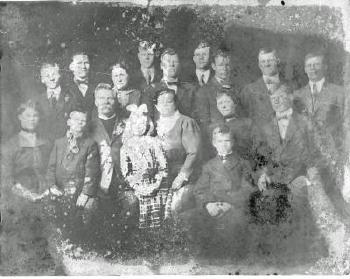 Back row: Unknown, Frank, Unknown, Fred, Arthur, Dave, Rick and Lynn (don't know which is which), Ben
Front row: Anna, Theodore, Swan, Olive, Hattie, Leroy, Dorothy, Joe

     Joseph William Johnson married Elizabeth Ann
Maynard
on Aug 18, 1919.
2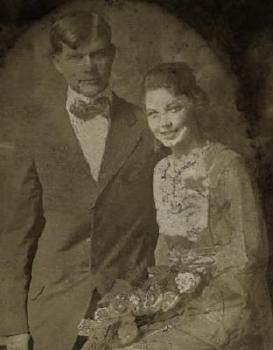 Leonard and Mabel? or Joe and Elizabeth?
     Joseph William Johnson lived in Aug, 1943 in Mitchell, SD.
1
Family

Elizabeth Ann

Maynard
Citations
[S1113] Salina Journal, August 11, 1943, page 9, column 7.
[S1908] Christina Johnson, "Johnson-Burch-Lombardo-Gonzalez Family Tree", Ancestry.com Family Tree.
[S732] 1900 U.S. Census, Kansas, Saline County, Smoky Hill Township, ED 124, sheet 11B, line 59, dwelling 194, family 194, Kansas, Saline County.
Copyright 2017 Julia Langel. This is a work in progress, so please be patient with errors and omissions!