Theodore Fortenus Johnson1,2,3
b. May 17, 1903, d. Aug 5, 1919
     Theodore Fortenus
Johnson
was born on May 17, 1903 in KS.
4,2
     Theodore Fortenus Johnson was listed as a son in
Swan A.

Johnson
's household on the 1910 Census in Ohio Township, Saline Co, KS.
4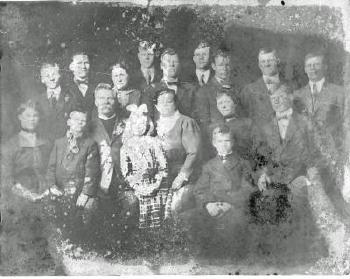 Back row: Unknown, Frank, Unknown, Fred, Arthur, Dave, Rick and Lynn (don't know which is which), Ben
Front row: Anna, Theodore, Swan, Olive, Hattie, Leroy, Dorothy, Joe

     Theodore Fortenus Johnson died on Aug 5, 1919 at age 16.
2
He was buried on Aug 8, 1919 at
Gypsum Hill

Cemetery
, in Salina, Saline Co, in KS. Block 16, lot 7, space 13.
3,2
Copyright 2017 Julia Langel. This is a work in progress, so please be patient with errors and omissions!