Catherine "Kate" Jane Fuller
b. May 25, 1843, d. Jul 11, 1889
Father
Benjamin F.

Fuller

1
     Catherine was born in Salem, IN, on May 25, 1843.
2,3,1,4
     She married
Peter

Shellhorn
in Humboldt, Richardson Co, NE, on Jul 19, 1866.
5,1
     Catherine was listed as a household member living with Peter
Shellhorn
on the 1870 Census in Pawnee Co, NE.
6
     Catherine was listed as Peter
Shellhorn
's wife on the 1880 Census in South Fork Precinct, Pawnee Co, NE.
1
     Catherine died on Jul 11, 1889 in NE at age 46.
7,4
She was buried circa Jul, 1889 at
Pawnee City

Cemetery
, in Pawnee City, Pawnee Co, in NE.
4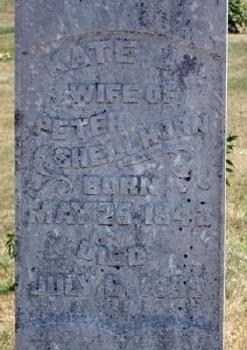 Copyright 2017 Julia Langel. This is a work in progress, so please be patient with errors and omissions!